There's scary news everywhere, too much shouting, a fair dose of chaos, and a lot of boredom from staying at home. That's 2020 for you. Have you ever felt the need for an escape, the desire to tune out? If so, a pair of true wireless earbud headphones are the very relief you need during these trying times. Very few things the size of a bean can help you escape into a universe of entertainment. Whether it's your favorite music on Spotify or the latest show on Netflix, truly wireless headphones are a great way to get your listening in while being discreet and comfortable.
Look no further than the Samsung Galaxy Buds Live or the Bose QuietComfort Earbuds. The Galaxy Buds Live are Samsung's latest 2020 release. They're famous for their unique, ergonomic, kidney bean shape that you won't find anywhere else. The QuietComfort Earbuds are Bose's latest addition to its top-quality lineup that promises insane active noise cancellation with high-quality sound. But how do these two true wireless earbud headphones compare? Let's take a quick look at some of the differences.
Immersive Sound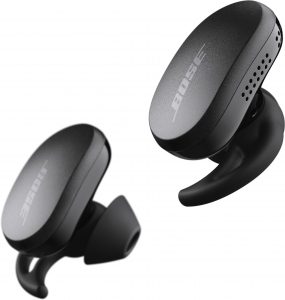 Being able to properly drown out noise while maintaining superior sound quality are important considerations when deciding on a pair of headphones. The Bose QuietComfort Earbuds sweeps the floor with this one. It has 11 stages of Active Noise Cancellation (or ANC) that will blow your mind away. Its acoustic port design and premium driver offer a fantastic sound experience with deep lows. The result is an amazing production of sound at any level.
The Galaxy Buds Live, on the other hand, has improved bass and an open fit design. The 12mm speaker and enhanced bass tone play everything in a rich, lifelike quality sound. Although the Galaxy Buds Live makes an effort to include ANC, it's no comparison to the 11 stages that Bose offers with its Quietcomfort Earbuds.
Reliable Battery Life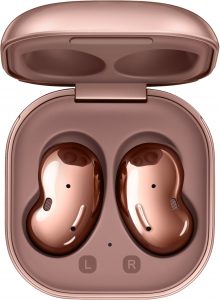 Let's be honest, there's nothing more annoying than that "battery low" alert while in the middle of your playlist. Fortunately, both of these headphones have you covered. The Galaxy Buds Live will get you 6 hours of continuous listening time with ANC turned on (21 hours with the charging case) and 8 hours with ANC turned off (29 hours with the charging case). The QuietComfort Buds are not far behind. With these earbuds, you will be blasting your music for 6 hours straight.
The charging case also adds another 12 hours hence a total of 18 hours. Both the Galaxy Buds Live and the QuietComfort Earbuds have USB-C and wireless charging compatibility. As an added bonus, you also have the option to charge your Galaxy Buds Live headphones on the latest Samsung phone models, including the S20.
Optimum Touch Controls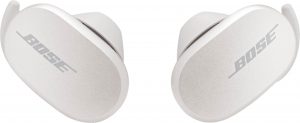 What if you're out on a run and you'd like to change to the next song or lower your volume? That's where the convenience of touch controls comes in. The QuietComfort Earbuds lets you take control with simple gestures. For the right earbud, double-tap to play & pause music, answer & end calls, or press and hold to access your voice assistant. For the left earbud, double-tap to cycle through your 3 favorite levels of noise cancellation or press and hold to access shortcuts you've made in the Bose Music app.
The Galaxy Earbuds Live also have touch controls. Tap once to play or pause. Tap twice to skip forward or take & end calls. Tap three times to go back. Long pressing enables you to turn ANC on and off. If you download the Galaxy Wearable app on your phone, you can even customize the controls to your liking!
Sweat-Resistant Technology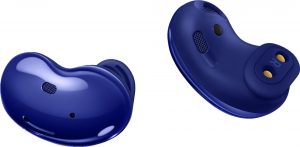 It would be such a loss if your headphones stopped working from sweat or rain. Unfortunately, the Galaxy Buds Live are IPX2 water-resistant, which means they can resist water that hits them at a 15° angle or less. In other words, if these headphones are exposed to too much moisture, whether jumping in the shower or getting caught in heavy rain, there's a strong chance that you'll experience some sort of water damage.
In contrast, the QuietComfort earbuds have an IXP4 rating, which means they can more reliably resist water splashes from any direction.
Who We Are
Still not sure which headphones to go with? Check us out! Flexshopper has easy weekly payments to suit any budget, and with thousands of products to pick from, we're sure to have the perfect wireless headphones you need. Plus, we guarantee fast delivery to your home. Contact us today!
For more information please see the list of Galaxy buds 2 vs bose quietcomfort earbuds
Source: https://blog.flexshopper.com/samsung-galaxy-buds-live-vs-bose-quietcomfort-earbuds-which-true-wireless-earbud-headphones-are-the-better-choice/