Fans have known for well over a year that the new Spider-Man: No Way Out movie would be arriving at the end of 2021, and that made it a given that a tie-in series of Spider-Man Marvel Legends No Way Out figures would be hitting stores around that time as well. Collectors had sky-high hopes for things like new Alfred Molina Doc Ock and Tobey Maguire Spider-Man Legends figures, but, well—what actually came to fruition is a little different: the Marvel Legends Spider-Man No Way Out Armadillo Series is now up for order!
Individual figure pre-order links: J. Jonah Jameson (Movie) ►Entertainment Earth ► Amazon Morlun (Comics) ► Entertainment Earth ► Amazon Shriek (Comics) ► Entertainment Earth ► Amazon Miles Morales (GamerVerse) ► Entertainment Earth ► Amazon Doctor Strange (MCU) ► Entertainment Earth ► Amazon Integrated Suit Spider-Man (MCU) ► Entertainment Earth ► Amazon Black-and-Gold Suit Spider-Man (MCU) ► Entertainment Earth ► Amazon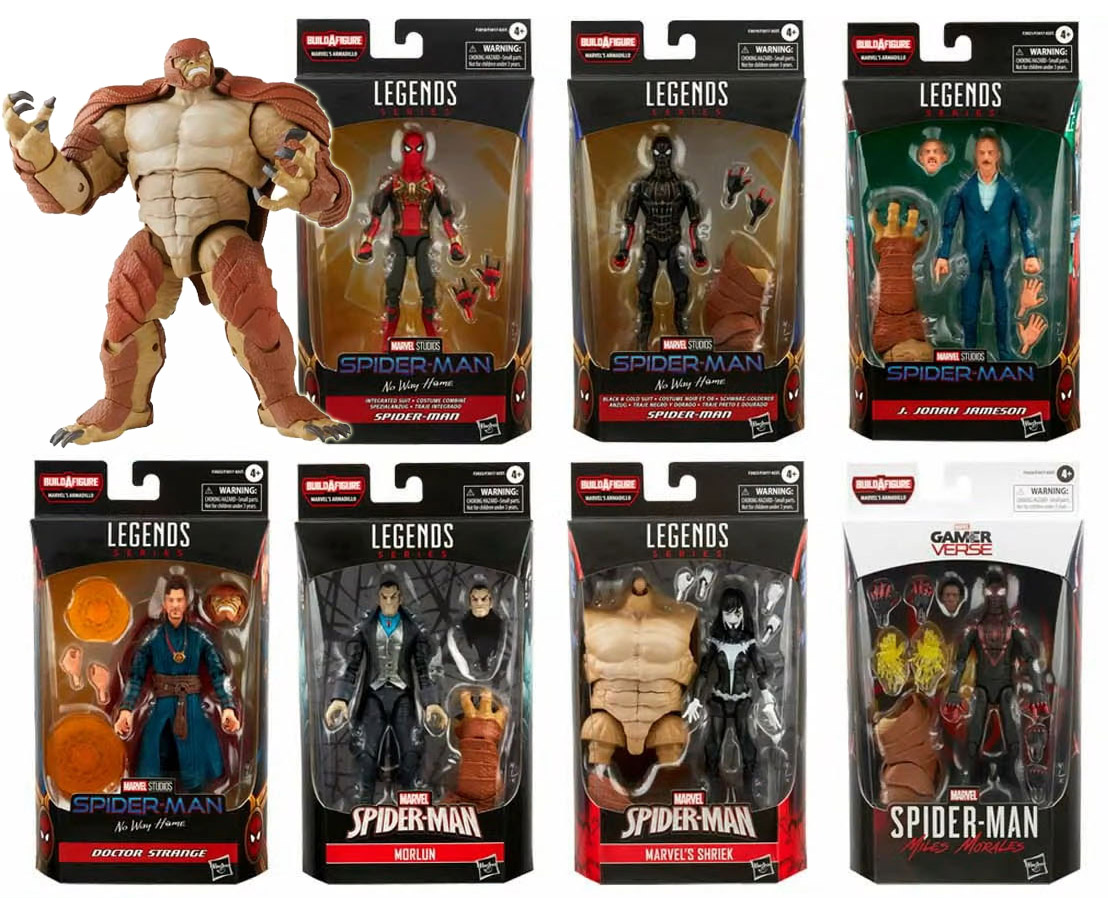 Even with the very, very little bit of officially confirmed information that was floating around about the Spider-Man No Way Out movie until this past week, if anyone on Earth had held an Infinity Gauntlet to my head and asked me what might be in a Spider-Man Legends series released in conjunction in the film, I would be long and totally dead.
It was probably a pipe dream for fans hoping to see things like Doc Ock, Tobey Maguire Spidey, etc in this lineup, but what we actually did end up with—at least for the movie half of this wave—is pretty plain. So let's hold off on that and start with the more interesting stuff instead…
The two comic book-based villains in this wave are absolutely the high point for me, as both of them are huge wants to check off my wish list of characters I've been waiting forever for and wasn't sure that we'd ever get toys of.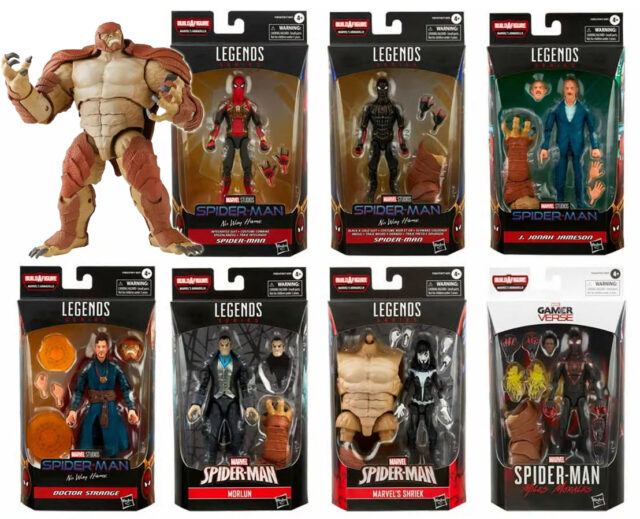 Completing the core cast of Maximum Carnage (yes, I know there's still also Nightwatch and Carrion if you wanna count the less significant supporting characters in the story), it's a long-overdue Marvel Legends Shriek figure! Maximum Carnage in the 90s was definitely the pinnacle for this character, and she really hasn't had a whole lot of relevance since—but I've been wanting an action figure of Carnage's psychotic (temporary) main squeeze for close to three decades now, and I am ultra-pumped to be getting it.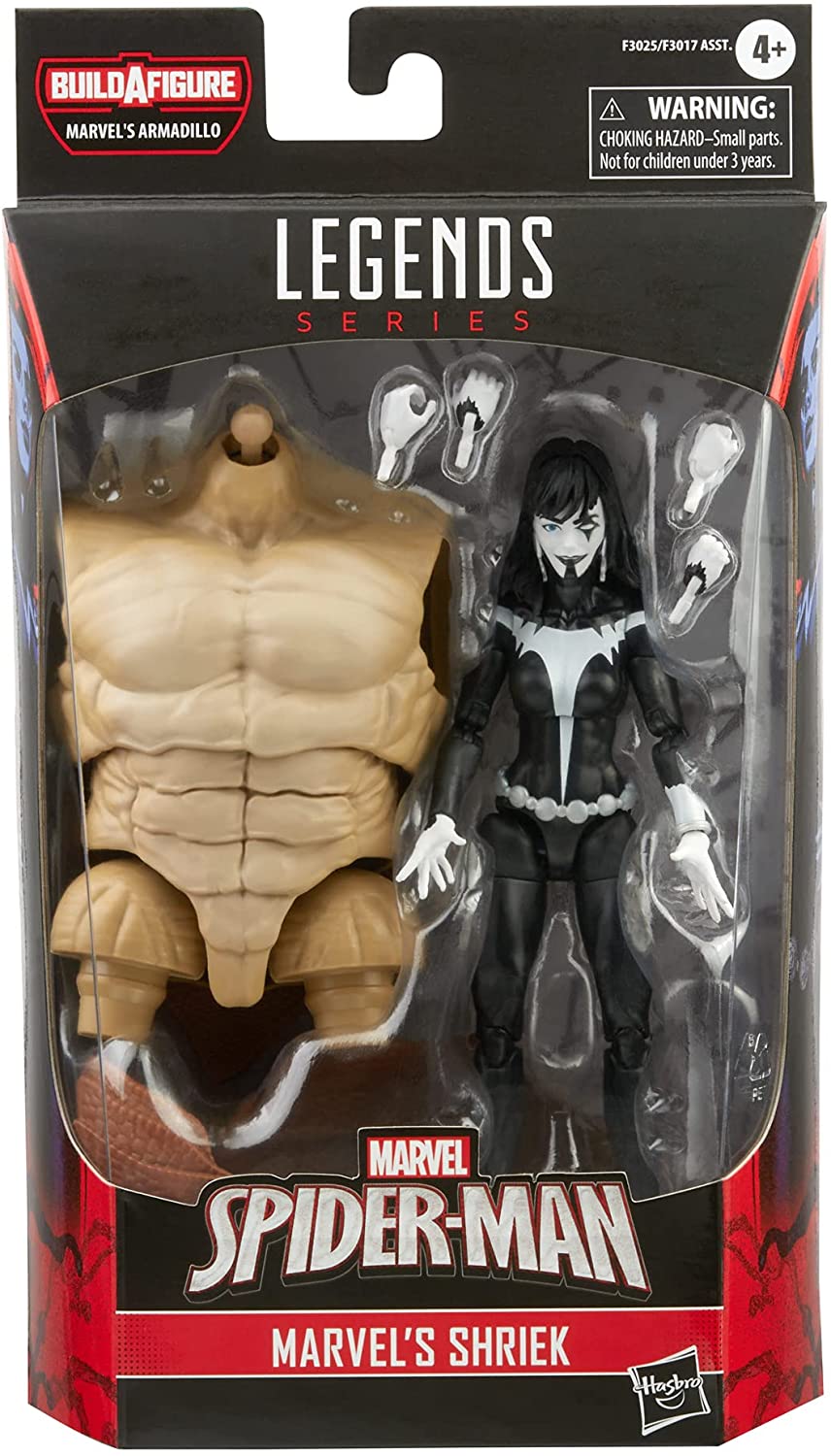 Next up we've got one of the best new additions to the Spider-Man Rogues Gallery over the past two decades (just barely—he's a 2001 character)—Marvel Legends Morlun! Created by J. Michael Straczynski as part of the Spider-Totems lore, Morlun was an unstoppable killing machine and true threat like no other to Spidey.
Morlun and the Inheritors from Loomworld would go on to be a central focus of the Spider-Verse, making this psychic vampire such an important villain that I'm shocked it's taken so many years to get a six inch figure of him. There's not much here for accessories, but the grinning and angry teeth-bared interchangeable heads are both rockin'.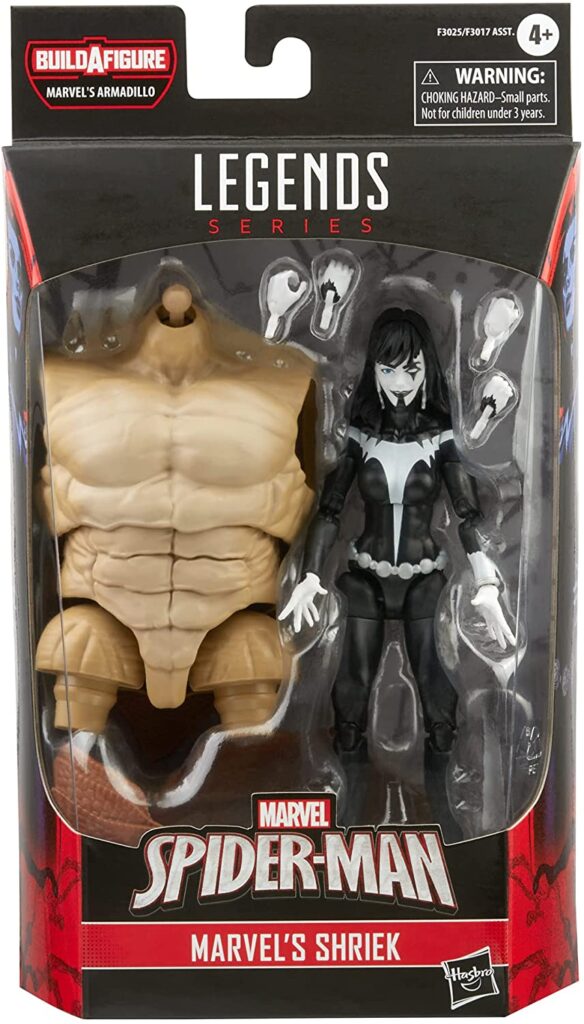 From the GamerVerse comes a new Miles Morales video game-based figure that we all knew must be in the cards when a clear GameStop Exclusive version was launched for pre-orders earlier in the year.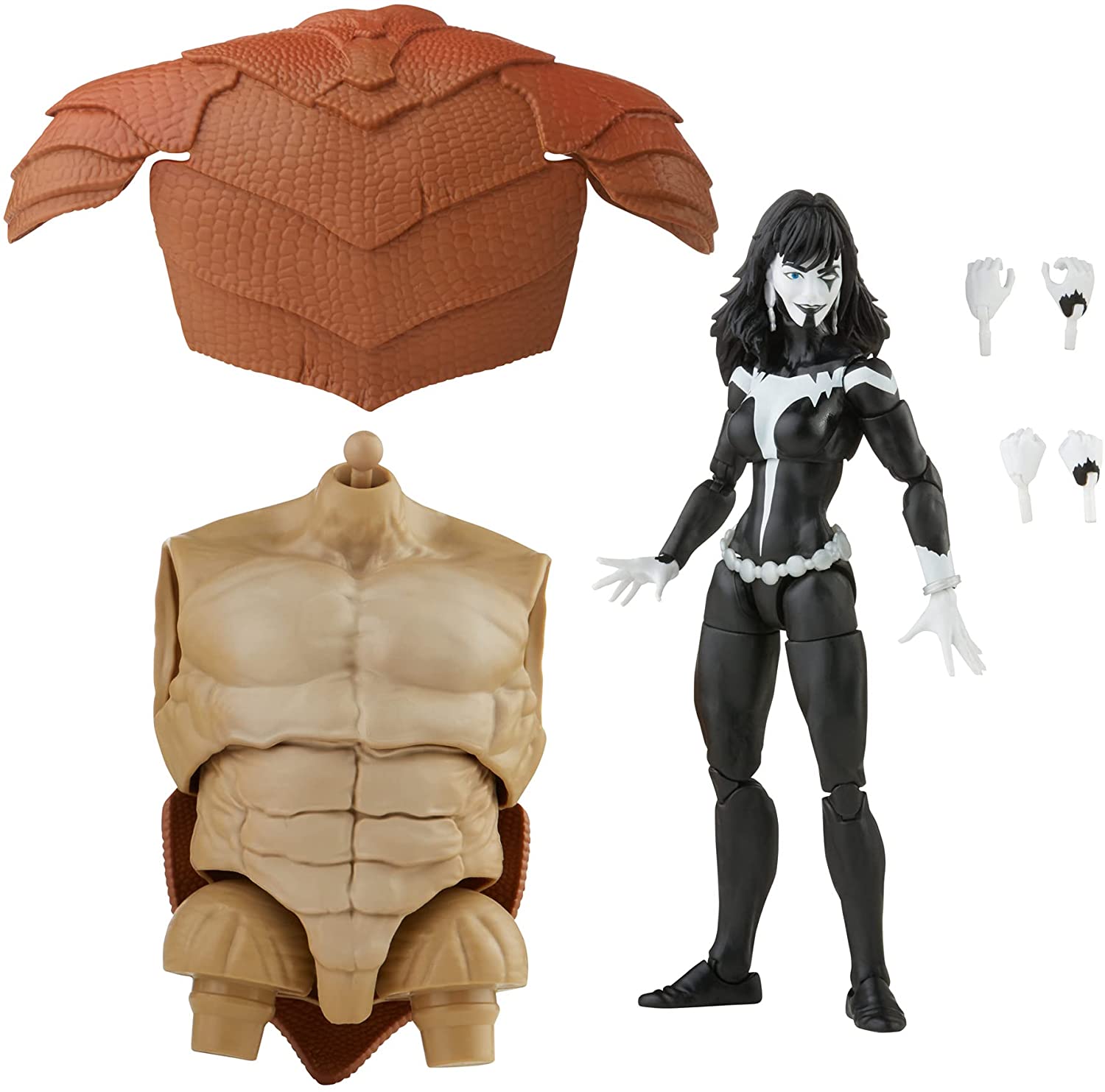 I actually like the proportions and sculpting on this GamerVerse Marvel Legends Miles Morales figure worlds more than I like the comic-based versions Hasbro has done. The Venom Blast hands are such an awesome inclusion, and the new Miles portrait head is a win. This looks awesome and is sure to sell well.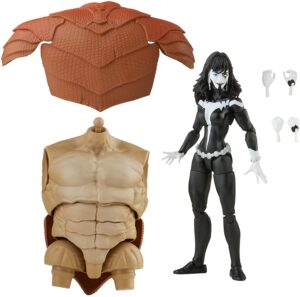 Moving on to those No Way Out Legends movie-based figures, the one figure I can see fans getting really hyped about is this new 6" J.K. Simmons J. Jonah Jameson Marvel Legends figure.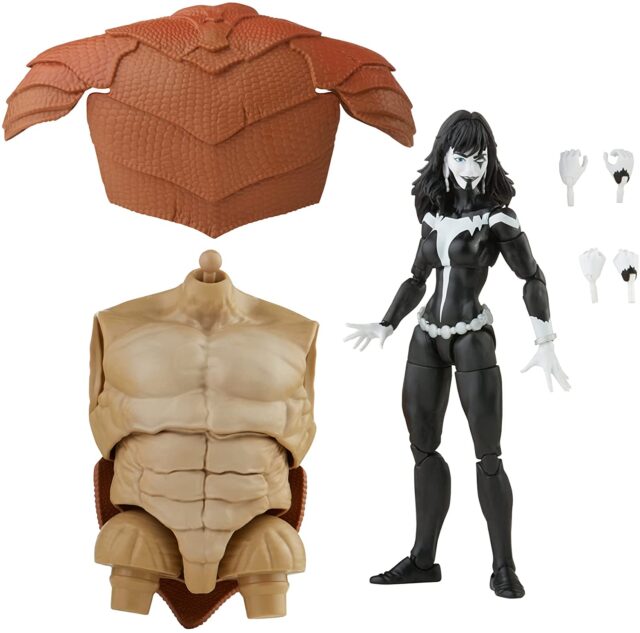 JK Simmons is (obviously) a bit older than he was when the original Spider-Man trilogy was made, so this action figure is quite a bit different from the ones made of movie JJJ many years ago. He's got a finger for pointing at Spidey as a menace, and a fist for pounding a table to make his point. Great stuff.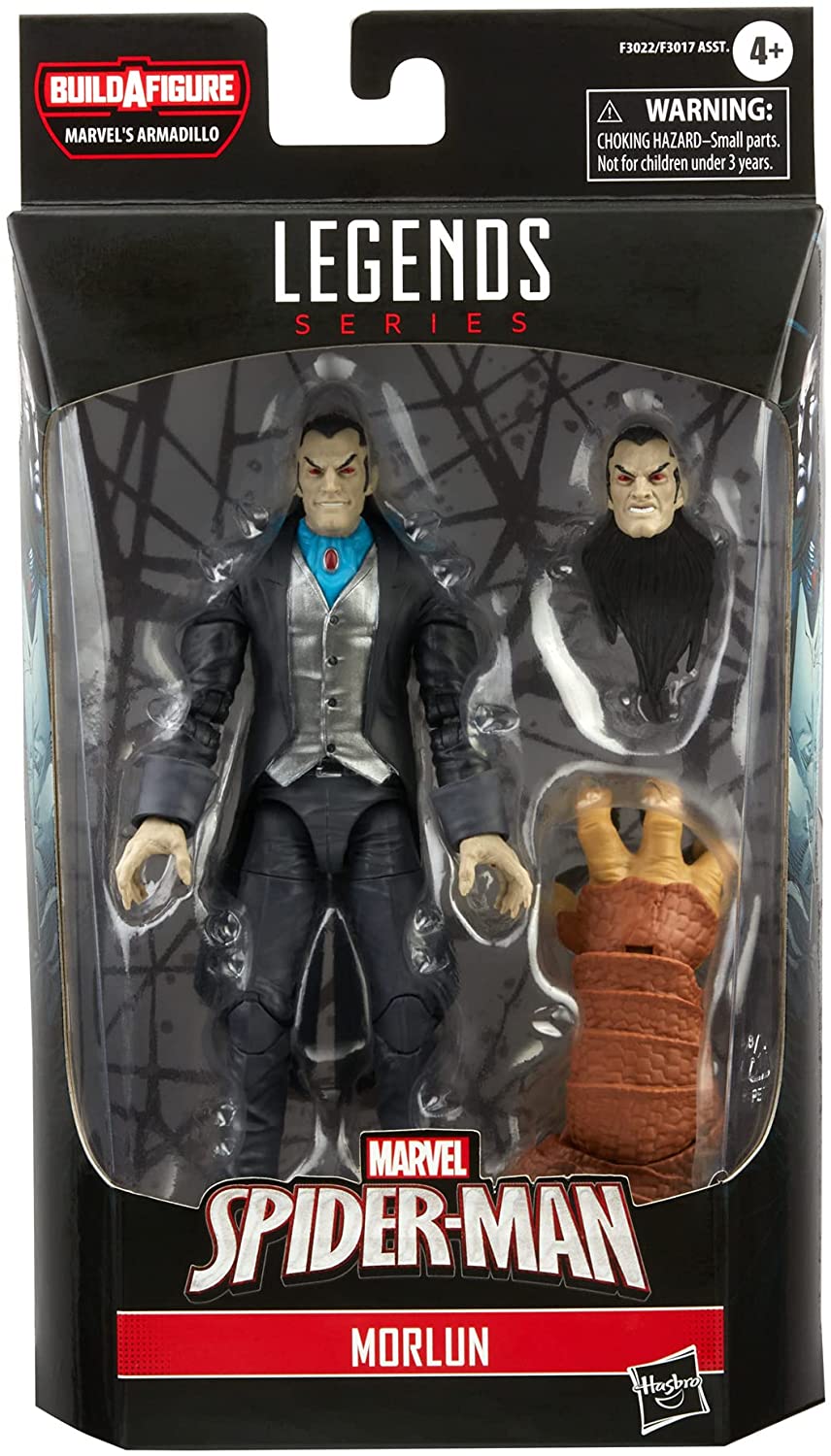 It's been a few years since we got a Marvel Legends Doctor Strange movie figure single-packed, so I'm confident this will be popular as well. The head sculpt is new and the best likeness that Hasbro has done of Benedict Cumberbatch, and the new spell hands are appreciated for sure.
There are some new parts on this figure that help differentiate it from past versions, but I'm not terribly excited about this Doc Strange ML figure myself. For longtime collectors, this is a bit of a yawn.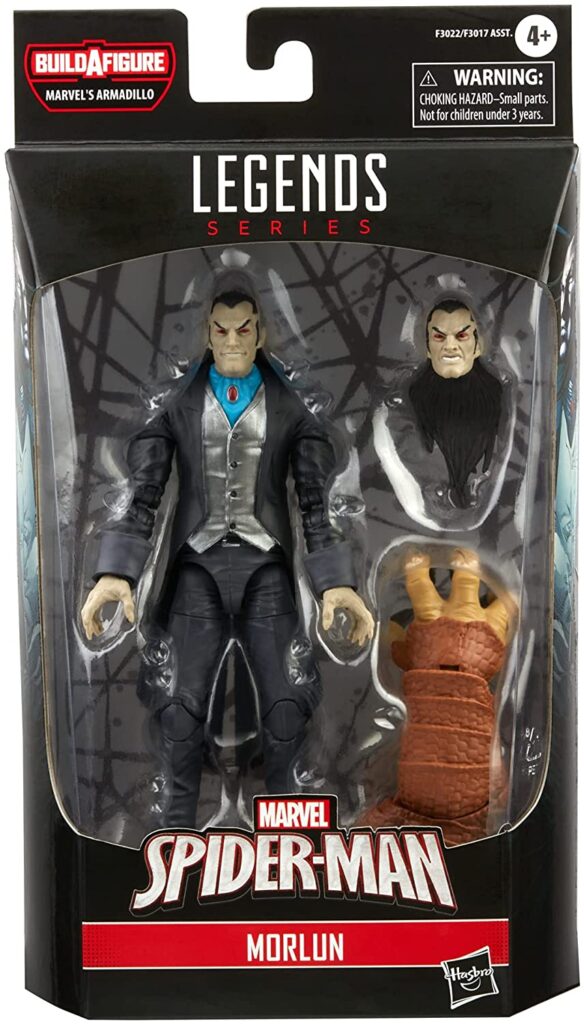 And speaking of yawning, we've got the two Spider-Man variants in the Armadillo BAF wave. The Integrated Suit looks a lot like the Iron Spider costume color-wise, which is… fine? I love me some Spidey costume variants, but this does not inspire me. Maybe when we see it in the movie.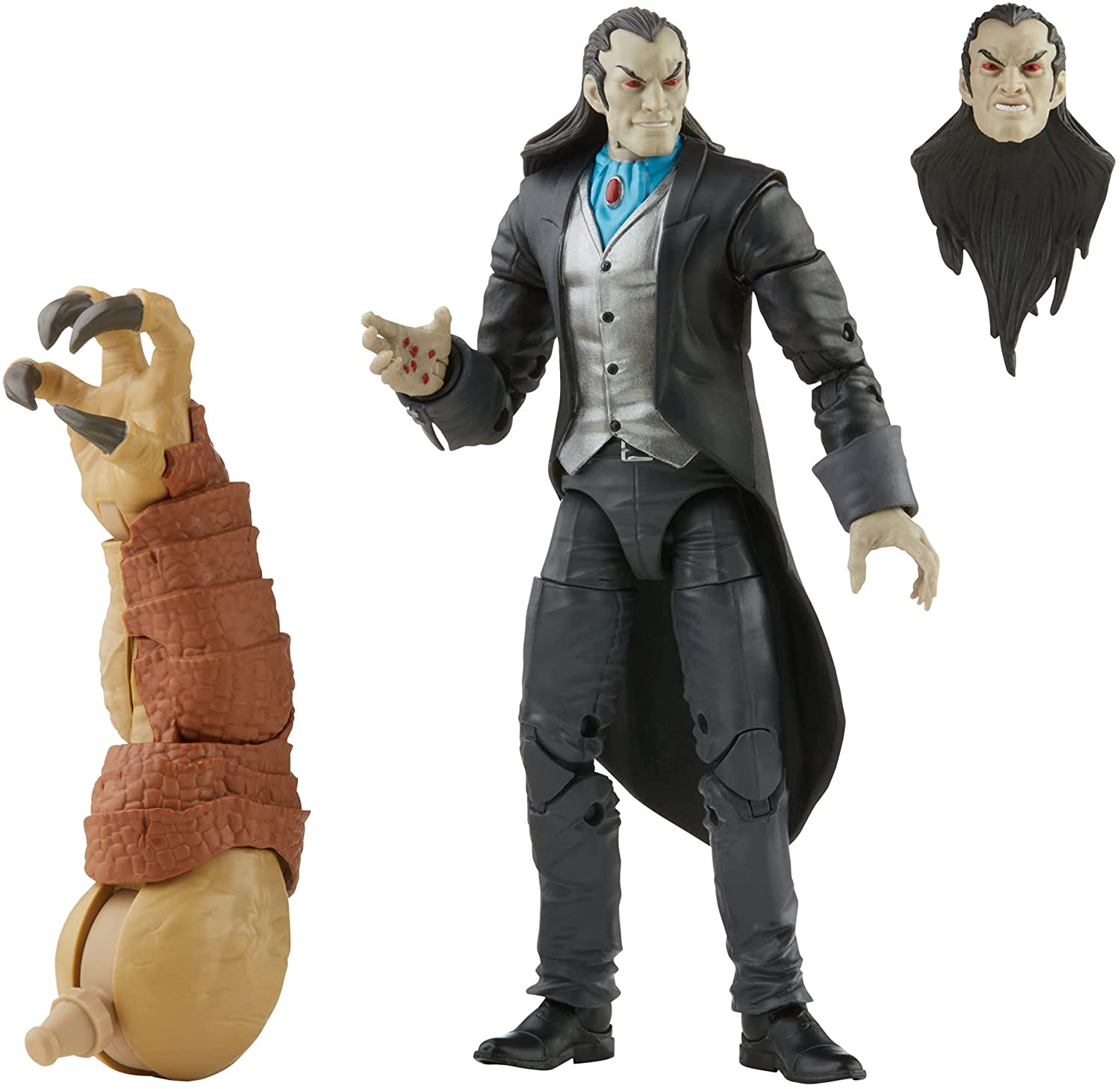 Note that Integrated Suit Spider-Man is the one figure in the wave that is not only double-packed at two-per-case (every other figure is shortpacked at one-per-case), but also the only action figure without an Armadillo Build-A-Figure part, so if you don't wanna buy him—you don't have to.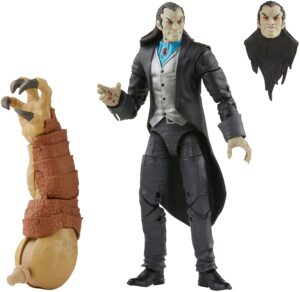 Finally, we've got what's only allowed to be called black-and-gold Spider-Man for now. Once we saw the Funko and Hot Toys of this, it was a foregone conclusion that this was going to be some sort of multiverse, reality-jumping suit, so I'm not sure Disney/Marvel Studios are going to be able to shove that cat back into the bag regardless of what they call this costume for now.
A lot of peeps have called this suit "ugly", and it's hard to disagree at this point. The Marvel Legends black and gold suit Spider-Man figure is apparently coming with zippo accessories besides one pair of alternate hands (and an Armadillo BAF leg), which definitely makes for a dull figure. Wish Hasbro could have included effects pieces like Funko and Hot Toys are.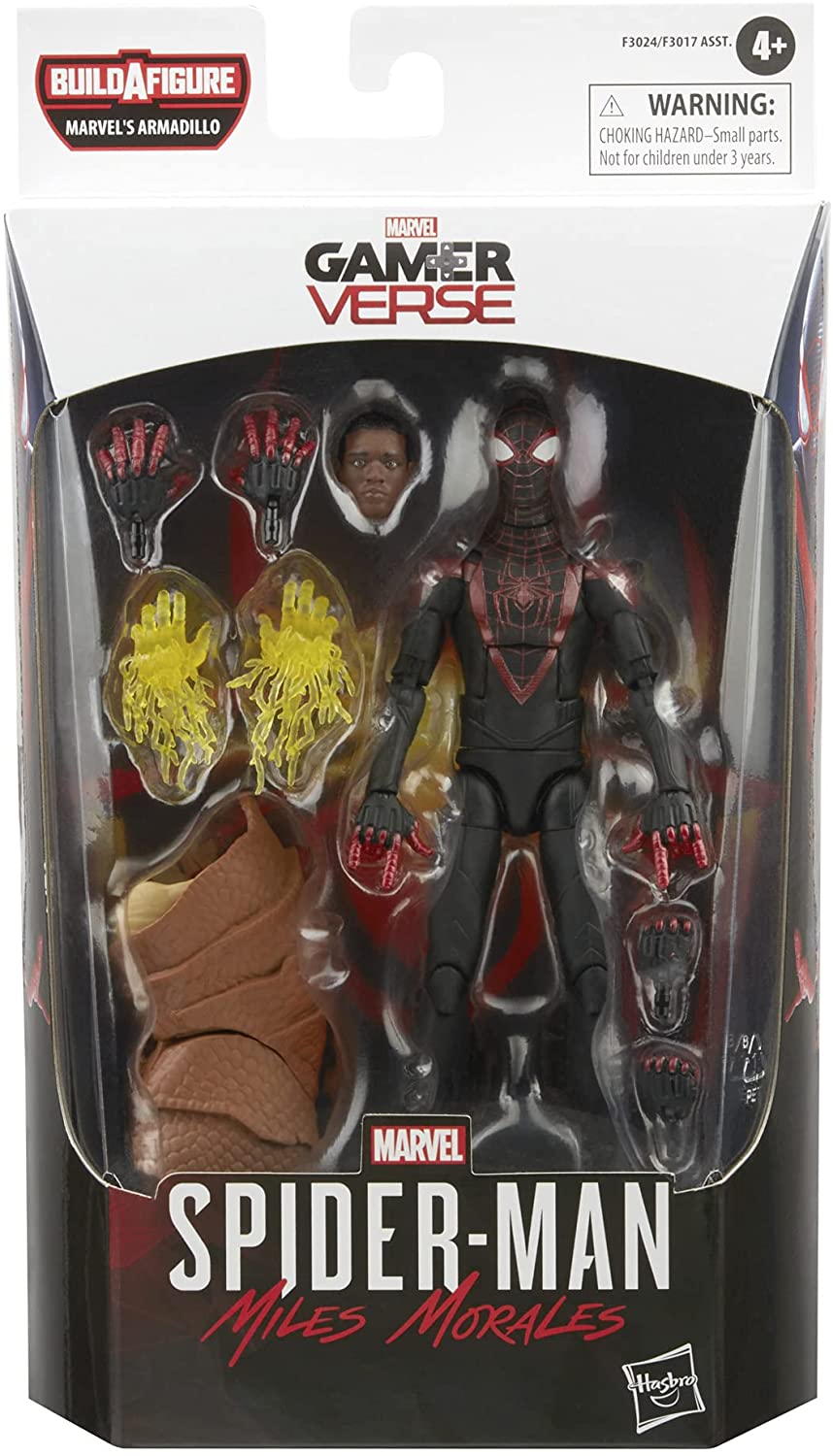 Last but absolutely not least, we have the massive Marvel Legends Armadillo Build-A-Figure that nobody in any timeline would have guessed would be the BAF of the Spider-Man No Way Home Legends series. Armadillo has appeared a surprisingly high number of times in Marvel comic books in recent years, and is going to look great alongside the roster of obscure villains such as the Serpent Society that Hasbro is *slowly* building on our shelves. His broad shoulders make him feel gigantic, and even without them he's still a bit taller than the Ursa Major BAF of the Iron Man wave.
The Spider-Man Marvel Legends Armadillo Series is now up for order, and is scheduled to be released this winter. Stores are absolutely going to want these movie figures on shelves when No Way Out hits theaters, and I'm sure Hasbro will do their damnedest to get them there. I can see J. Jonah and Miles being the "hot" sellers from this wave—I'm not at all convinced about the movie Spidey variants themselves selling well.
What do you think of this eclectic movie wave of Spidey Legends, Marvel collectors? Are any of you hyped about the Armadillo Build-A-Figure and planning to pick up all the figures you need to build him? If not, which figures (if any) are jiving well with you?
For more information please see the list of Spiderman no way home toys
Detail: http://marveltoynews.com/marvel-legends-spider-man-no-way-home-figures-series-armadillo-baf/